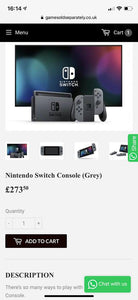 New features added to the website
New features added to our website.
Click the 'share' button on the right hand side of the screen to instantly share gaming products on WhatsApp with your friends.
Click the 'chat with us' button at the bottom of the screen for instant 24/7 customer support.
We're committed to providing the best customer experience in the UK.
💪💪💪
---