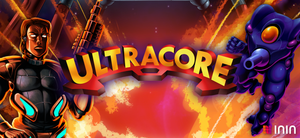 90's Run and Gun Classic Ultracore is going digital !
NIN Games makes the long-lost run & gun game Ultracore accessible for retro game fans around the world. The game was developed by the famous Swedish game developer, Digital Illusions, also known more recently as DICE. Releasing digitally on June 23rd 2020 for PS4 and Nintendo Switch in Europe, North America, Australia and New Zealand. Ultracore will be available in the eShops for £17.99 with a digital release for the PS vita coming soon.
  ININ Games is excited to announce that they  are able to give fans of retro platformer games the opportunity to play Ultracore after more than two decades of waiting for this piece of gaming history! Packed with ultimate action in 5 large stages with various weapons to collect and use to fight your enemies, the thrilling run & gun platformer from the 90s will be available digitally on June 23rd 2020 for PS4 and Nintendo Switch. 
  With the endeavour of Strictly Limited Games, Ultracore has been restored and completed after its development was put on hold due to an upcoming evolution of video game consoles back in 1994. In collaboration with experts of the genre and (former) members of DICE, the game was brought to life – improved, optimized, full of run & gun action and hardcore boss fights. 
   This masterpiece has been further refined by adding a second full-length soundtrack, so players will be given the option to either play through the game with the old or the new background music. This new soundtrack features more than 20 full-length synthwave and electronic tracks of few of the genres best artists such as Scandroid, Waveshaper, Mega Drive, Fury Weekend, 3Force, Isidor, Fixions and many others.
  And now it's the turn for the retro fans that didn't get the chance to capture one of the limited physical versions of the game as Ultracore has finally made its way through to the digital release by ININ Games.

I know the care, love, sweat and hard work that went into creating Hardcore in the first place by all involved parties. Thus, I think it is fantastic that this product finally gets to see the light of day and for people to be able to play it." 
by Fredrik Liljegren, one of the 4 founders of DICE.
Follow us for the latest news, updates and deals!
---