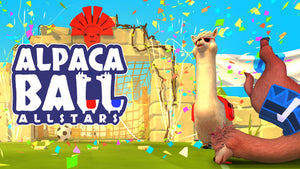 Alpaca Ball announced for Nintendo Switch and Steam
Bring the cup home in this hilarious and chaotic physics-based party game!
Sand Castle Studios today announced Alpaca Ball for Nintendo Switch and Steam. The game will launch later this year.
Football with Alpacas! Bring the cup home with up to 8 players in this hilarious and chaotic physics-based party game! Peru-ve yourself on the Picchu and win those Machus!
Dress your silly alpaca up, swing your long neck to hit the ball, then dash after it on your tiny legs. A heady mix of unpredictable randomness, player skill and silly physics allows for comically gripping matches
We really like football as a game and wondered how the old established formula could be spiced up? We figured it would be extremely hard to expand the rules of a game that is hundreds of years old and loved by millions,But then we remembered that Alpacas make everything better, so here we are.
by Gregor Kirchhofer Produce at Salt Castle Studio
Physics-based engine for unpredictable and hilarious results!
Frenetic local multiplayer with up to 8 other people 
Play online with your friends via Steam Remote Play, they don't even need to own the game! (This feature is exclusive to the Steam version of the game)
Lead your alpaca to glory in Career Mode 
Or build custom matches with bot alpacas!
Vibrant pitches inspired by famous South American places such as Machu Picchu!
Customize your Alpaca!
Follow us for the latest news, updates and deals!
---