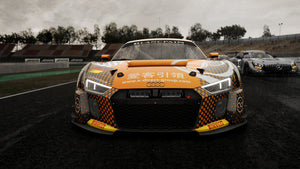 ASSETTO CORSA COMPETIZIONE IS HIGH-OCTANE SIMULATION RACING AVAILABLE TODAY FOR PLAYSTATION 4 AND XBOX ONE
Assetto Corsa Competizione, the official game of SRO Motorsports Group's GT World Challenge® is available today for PlayStation 4 and Xbox One 
Players who pre-ordered Assetto Corsa Competizione for Xbox One (digital or physical) and PlayStation 4 (physical only) and those purchasing it digitally on PlayStation Store until July the 7th, will receive free instant first-access to the recently released Intercontinental GT Pack, which expands the game experience to include the Intercontinental GT Challenge Powered by Pirelli competition.All other players can purchase the Intercontinental GT Pack when it releases for PlayStation 4 and Xbox One on Thursday, July 23 for £12.49.
The Intercontinental GT Pack for Assetto Corsa Competizione introduces four international circuits - Kyalami Grand Prix Circuit (South Africa), Suzuka Circuit (Japan), Weathertech®️ Raceway Laguna Seca (United States) and Mount Panorama Circuit (New South Wales Australia). The expansion also adds more than 45 new car liveries, 30 new teams and 50 new drivers along with all-new game modes from the real-life Intercontinental GT Challenge powered by Pirelli.
The arrival of Assetto Corsa Competizione on PlayStation 4 and Xbox One is just the beginning, with a full post-launch development plan underway for both the console and PC versions of the game:
The GT4 Pack DLC, adding +10 new GT4 cars, will be available this July on Steam for PC, and this fall for PlayStation 4 and Xbox One.

The British Pack DLC, offering 3 new iconic circuits that complete the 7-race calendar of the British GT Championship, will be available this winter both on Steam for PC and for PlayStation 4 and Xbox One.
Assetto Corsa Competizione can be played with standard console gamepads and can also be played with more professional and immersive simulation racing rigs. 505 Games and KUNOS Simulazioni have partnered with sim racing peripheral company Fanatec, a leading global developer of controllers, racing wheels, pedals, cockpits and connecting accessories for the most important playing consoles and PCs of today
Follow us for the latest news, updates and deals!
---