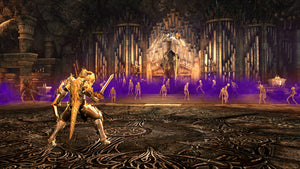 Bless Unleashed Coming to PC in Early 2021
 Round8 Studio has announced that Bless Unleashed will be released for PC early next year. In preparation for the launch, they will also be running a series of closed beta tests this Fall. The details of which will be released in the near future.
  Bless Unleashed is an action MMORPG that takes players on an epic journey across a dynamic, sprawling world and tests their mettle against vicious monsters and in perilous dungeons. Built on the Unreal 4 Engine, Bless Unleashed also features unrivaled graphics for the genre that really immerse players in the vibrant landscapes. Deeply rewarding combo-driven gameplay mechanics and a persistent progression system also add to the complexity of the game.
We are absolutely thrilled and excited to be able to announce that we are in preparation for our Bless Unleashed PC platform launch! Bless Unleashed is a dynamic combat-driven, vast open-world MMORPG, and our players will be able to explore the world of Bless Unleashed and experience the treacherous, and menacing dungeons with other friends and foes right from your PC.
by Jason Park, Round 8 Studio's Head of Development
Additionally, Bless Unleashed's new Saurin Deception update came out recently for Xbox One. The major update includes over 150 new quests, new monsters and dungeons, and a host of gameplay enhancements.
Follow us for the latest news, updates and deals!
---