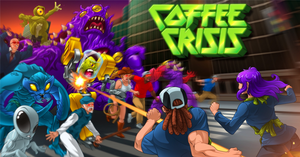 Caffeinated Couch Co-op Coffee Crisis Coming to Switch November 30th
Coming to Switch on Nov 30, 2018 
Coffee Crisis
is a neo-rogue brawler that puts you in the shoes of the only baristas on Earth with enough heavy metal in their veins to fend off an alien assault. Fill your cup, hit the streets, and knock the beans out of some aliens!
The Smurglian race has come to Earth and they're not leaving until they steal our three most prized commodities: heavy metal, free Wifi, and our coffee. They launch their invasion from a coffee shop and spread their assault by possessing all the local grannies, bros, and country singers! Little did they know that their ground zero is also the heaviest, most-metal coffee shop on the planet, and home to earth's most unlikely defense: Nick and Ashley, two baristas ready to brawl!
Crunch through fistfuls of alien meat as you stop the invasion with a variety of grabs, special moves, and suplexes, all set to an incendiary heavy metal soundtrack! Play solo or join up with a friend to fight across ten unique locations ranging from your Coffee House HQ to the far reaches of outer space. Stomp an army of wild alien enemies and their brainwashed humans with weapons like sacks of coffee beans, Martian lava swords, and severed alien limbs!
Already averted the crisis? Come back for more in Death Metal Mode, and enjoy random modifiers to the enemies and action on each playthrough. Over 100 mods can help the player (extra health, extra damage), hurt the player (elite enemies, massive enemy spawns), or crank up the metal (guitar riffs, coffee and blood rain from the sky)! Take advantage of the custom Twitch & Mixer integrations that allow viewers to vote on what kind of mod the streamer will get! It's a totally unique cup of beat 'em up action every time you play!
Key Facts and Features
14 Levels of Smurglian Smashing Goodness

Gorgeous hand-drawn sprites and environments

Local co-op to fight aliens with friends

Encounter random modifiers that could make you an invincible killing machine or summon a swarm of raging possessed cowgirls! You'll never experience the same cup of cosmic coffee carnage twice!

Hard-Hitting, Face-Melting Heavy Metal Soundtrack!

Brainwashed grannies and dangerous amounts of caffeine!
About Mega Cat Studios
Founded in 20XX, Mega Cat Studios is a small developer with a lot of heart, and one goal: to keep the dream of gaming- the dream we remember from the days of youth- alive and well. Whether we're building a high tech VR title or an NES games, cartridge and all, our name is a stamp of quality on everything we produce.
---