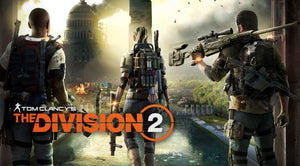 DETAILS FOR TOM CLANCY'S THE DIVISION® 2 TITLE UPDATE 10 REVEALED
Massive Update Brings Improvements and Fixes on 16th June
 Ubisoft has announced that Title Update 10, a huge update for Tom Clancy's The Division® 2 will go live from 16th June, bringing massive improvements and fixes. On 23rd June, Season 2 for Tom Clancy's The Division® 2 Warlords of New York will be available, bringing exciting new endgame content to players. Then, soon after the deployment of Season 2, the much anticipated Second Raid will bring back players' ultimate challenge.
After extensive testing on the games public test server which gathered feedback from players, and allowed the development team to fine tune gameplay and introduce player requested features such as:
Increased damage for nearly all weapons, including exotics
Gear set improvements
Brand set improvements
Increased overall loot quality
Improved loot quality scaling with difficulty
Improved quality of crafted items
Improved vendor stocks
Major balancing pass
Large amount of bug fixes
The Division 2 Warlords of New York: Season 2
On 23rd June the second season of progressive endgame content will be available. Seasons are part of the Tom Clancy's The Division 2 Warlords of New York expansion and are a series of 3-month long narrative-driven mini campaigns. In Season 2 – Keener's Legacy, Division Agents are tasked to take on a new rogue cell and stop them from continuing the plan left by Aaron Keener. Players must own The Division 2 Warlords of New York expansion in order to participate in Seasons.
Much like Season 1, Season 2 will give players the chance to unlock unique rewards, including two new exotics, a skill variant and a gearset. Players with the Warlords of New York expansion can play Season 2 for free and can purchase a Season 2 Pass to earn additional rewards for their progression. The Pass also offers more opportunities to unlock Season specific gear and exclusive vanity items such as a unique Season outfit. Players have until 15th June to complete Season 1 before Season 2 kicks off on 23rd June. 

In the Second Raid players will face a new challenge that teams of eight must work together to overcome. Additionally, exclusive rewards will be available for both Level 30 and Level 40 players as they tackle the most challenging mission in the game thus far. The release date of Second Raid will be revealed in the near future.
 Tom Clancy's The Division 2 is available on the Xbox One family of devices including the Xbox One X, PlayStation®4 computer entertainment system, Windows PC, UPLAY+, Ubisoft's subscription service, and the new generation gaming platform, Stadia.
Follow us for the latest news, updates and deals!
---