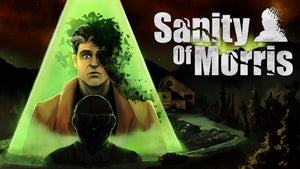 Developers of cute Woven now announce Psychological Horror Adventure Game Sanity Of Morris
StickyLock Studios and Alterego Games proudly announce the Psychological Horror Adventure game Sanity of Morris
Alterego Games just announced its second title, a psychological Horror adventure that goes by the name of 'Sanity of Morris'.
Around since 2014, Alterego Games might be known to some, but is in other respects a fairly small company based in the Netherlands with a love of storytelling. They created 'Woven' and although their kickstarter didn't make it, released it for Xbox One, Playstation 4, PC, Mac, Linux and Switch with the help of publisher StickyLock Studios.
Features:
Use your flashlight to reveal and interact with clues.

Crouch and sneak your way past enemies undetected.

Collect audio tapes, secret files and hidden pictures for your journal and create a timeline of events.

Balance seeking out new information against avoiding stress, or you might lose your sanity.

Discover the truth about your father and his alien conspiracies. Has he gone crazy…. Or have you?

 Sanity of Morris, is a game in which you have darkness itself to fear. In this game we see elements from the detective genre combined with psychological horror to tell the story of a young man trying to stay sane in the search for his deranged father, whom we are meant to believe is consumed by conspiracy theories about the government and alien signals. 
Very quickly into the game, we get the sense that we haven't been told the first story, and nothing we experience can be taken from granted. An exciting start of what seems to be a solid indie go at the psychological horror genre.
Follow us for the latest news, updates and deals!
---