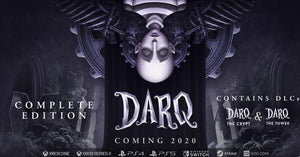 Dreamloop Games to Bring DARQ to Current and Next-gen Consoles
Finnish game development studio Dreamloop Games and game publisher Feardemic, a wholly-owned subsidiary of Bloober Team SA, are pleased to announce a partnership that will bring Unfold Games' award-winning and critically acclaimed, surrealist, puzzle-platformer DARQ to current and next-generation consoles with a new title "DARQ Complete Edition". 
Dreamloop Games will take on DARQ Complete Edition development for Playstation 4, Playstation 5, Xbox One, Xbox Series X, and Switch. This partnership will see DARQ Complete Edition brought to console audiences for the first time and will include all of the game's downloadable content. Though development is underway, no release date or price has yet to be confirmed.
Bringing DARQ Complete Edition to consoles will mark a return to form in the dark and surreal for Dreamloop Games, which recently tackled multi-platform development for Funcom's Lovecraftian horror title Moons of Madness.
While Dreamloop is known for its tongue-in-cheek humor in owned-IP projects, Teemu Norvasto, the company's Art Director, finds a strong appeal in DARQ Complete Edition's eerie nature. "There's a pretty amazing amount of detail put into the environments of the game - it makes the allure of the dark and surreal even stronger for us. We have quite a few horror game enthusiasts in the company, myself included, so it has been very exciting to get to work with these kinds of projects," said Norvasto. "As horror game enthusiasts ourselves, we have a great deal of respect for what Unfold Games has done with DARQ and want to bring that eerie magic faithfully to consoles. We're working closely with Unfold Games to ensure we do so."
This partnership further entrenches Dreamloop Games as a premiere Nordic work-for-hire studio, as they have developed a strong reputation as a reliable partner studio by undertaking development work for (or publishing) games such as Moons of Madness, Stardust Galaxy Warriors: Stellar Climax, Bus Simulator 18, Ostwind and Race Arcade across all major gaming consoles.
Follow us for the latest news, updates and deals!
---