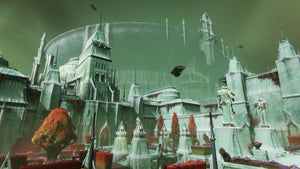 Explore Savathûn's Throne World in the latest trailer for Destiny 2: The Witch Queen
Check out the first in-depth look at Savathûn's Throne World, the new destination coming in The Witch Queen. A twisted wonderland of corruption and splendor, Savathûn's Throne World plays host to a fragile balance of terrifying power. Seek the truth and learn that in this place, mystery makes its home in both the Darkness and the Light.
In The Witch Queen, players will face enemies that are unlike any they've encountered before, and will unravel the truth behind Savathûn, the Witch Queen. Players will explore a brand-new destination in Savathûn's Throne World and will face her Lucent Brood – Hive enemies who are infused with the same Light that powers Guardians. To face those considerable threats, for the first time ever, players will forge weapons of their own making with the brand-new weapon crafting feature, and wield a new weapon type – the Glaive.

Destiny 2: The Witch Queen arrives on February 22.
---