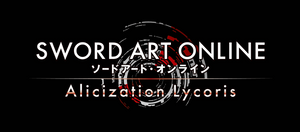 EXPLORE THE STORYLINES OF SWORD ART ONLINE ALICIZATION LYCORIS IN AN ALL NEW TRAILER
  BANDAI NAMCO Entertainment America Inc. has released the newest trailer for SWORD ART ONLINE Alicization Lycoris, which showcases the game's story. Delve into the anime's Alicization arc and get reintroduced to characters Kirito and Eugeo, who must explore the Underworld in search of their friend Alice while battling powerful foes along the way. 
  SWORD ART ONLINE Alicization Lycoris also features an original storyline with the new game-exclusive character Medina Orthinanos. Medina, voiced by Miho Okasaki of The Time I Got Reincarnated as a Slime anime fame, will join series mainstays in SWORD ART ONLINE Alicization Lycoris' expansive world filled with epic battles and stunning JRPG visuals.
  SWORD ART ONLINE Alicization Lycoris will give fans myriad ways to engage its intense real-time combat system as players encounter powerful Underworld foes in the upcoming RPG. SWORD ART ONLINE Alicization Lycoris boasts a deep skill tree, arsenal of weapons and consumable items, as well as powerful Sacred Arts that further deepen the title's gameplay. 

  While we still have to wait for the newest addition to the sword art online series we do have SWORD ART ONLINE: HOLLOW REALIZATION in stock right now for just £19.95 ! click on the link below to purchase this fantastic title on PS4.
  Players will assume the role of Kirito to explore the world of Ainground in the most immersive single player MMO-like experience ever created. In 2026 A new VRMMORPG has emerged: Sword Art: Origin. In this familiar world, in which he was once trapped, Kirito meets a mysterious NPC, Premiere, and receives a cryptic message: "I am back in Aincrad". Taking the role of Kirito, players will enter the massive expansive world of Ainground to unravel this mystery. First of all, thanks to the advanced Avatar Customisation system, players will personalise their avatar: name, gender, weapons and physical appearance, from the eyes' colour to the sound of the voice!

  As players start this new adventure, they will have to assemble a party of characters to command and collaborate with during fierce battles. Famous Sword Art Online characters will join them such as Asuna, Silica, Sinon, Leafa and much more as well as more than 300 NPCs to interact with, peopling this new virtual world. For even more fun, players will be able to enjoy the game with 3 other players in an exclusive Multiplayer Mode providing a never-seen-before experience in the Sword Art Online universe.
SWORD ART ONLINE: HOLLOW REALIZATION PS4
Follow us for the latest news, updates and deals!
---