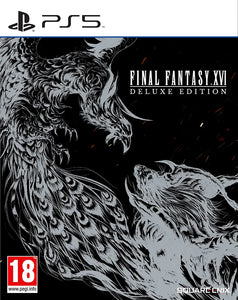 Final Fantasy XVI: The Ultimate Fantasy Adventure for PS5 - Pre-Order Now!
Welcome to an exciting world of fantasy, magic, and captivating storytelling with Final Fantasy XVI, the highly anticipated addition to the legendary Final Fantasy series. Set to release exclusively for the PlayStation 5 (PS5), this latest installment promises an unforgettable adventure. In this blog post, we will delve into the game's features, discuss the pre-order details, and help you secure your copy of this epic masterpiece.
Final Fantasy XVI takes players on a thrilling journey to the enchanting realm of Valisthea, a land blessed by the presence of Mothercrystals—a source of unimaginable power. However, peace and harmony in this once-peaceful land are threatened by the malevolent force known as the Blight, which spreads darkness and corruption. As the young protagonist, Clive Rosfield, you embark on a quest to protect your land, unravel the secrets behind the Blight, and navigate a web of political intrigue that will keep you on the edge of your seat.
This groundbreaking installment offers a refreshing twist on the beloved Final Fantasy formula. With a darker and grittier atmosphere, a revamped combat system, and breathtaking visuals that harness the power of the PS5's hardware, Final Fantasy XVI delivers an unparalleled gaming experience. Immerse yourself in lush environments, detailed character models, and breath-taking cinematics that will transport you to a realm like no other.
Now that you're captivated by the promises of Final Fantasy XVI, let's discuss the pre-order details. By pre-ordering the game, you can ensure you're one of the first to embark on this epic adventure. Pre-orders for Final Fantasy XVI are now open, and demand is sky-high, so act fast to secure your copy!
Final Fantasy XVI is set to revolutionise the RPG genre and redefine the standards of gaming excellence. With its captivating storyline, stunning visuals, and a combat system that strikes a perfect balance between innovation and familiarity, this game is a must-play for Final Fantasy enthusiasts and newcomers alike. Secure your copy today by pre-ordering Final Fantasy XVI for the PS5, and get ready to embark on a breath-taking adventure like no other.
Remember, with Final Fantasy XVI, the world of Valisthea awaits—pre-order now and be part of gaming history!
Pre Order Final Fantasy XVI (PS5) standard edition now by following this link OR you can pre order the Deluxe Edition by following this link. 

As always, there is you earn £5 back in discount vouchers on every £100 spent!
---