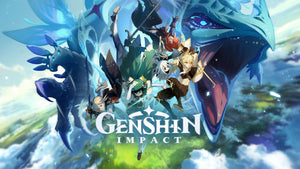 Genshin Impact Now Available Worldwide on PlayStation®4, PC, Android and iOS
Start your adventure today in a vast magical world with friends across multiple platforms!
Genshin Impact Now Available Worldwide on PlayStation®4, PC, Android, and iOS
Today, global interactive entertainment developer and publisher miHoYo announced that Genshin Impact, its latest open-world action RPG title, is now available on PlayStation®4, PC, Android, and iOS worldwide. Genshin Impact aims to offer an immersive adventure experience with vast, breathtakingly beautiful landscapes, an engaging element-based combat system, a diverse cast of characters with richly developed stories, and a cross-platform co-op mode.
For the past three and a half years, our team has been working towards creating a sprawling, beautiful open-world game in which players have the freedom to explore alone or bring friends along for the journey, We're very grateful to have over 10 million players pre-registered for Genshin Impact across PS4, PC, and mobile around the world. We can't wait to see you all in the world of Teyvat."
by Forrest Liu, General President of miHoYo.
According to miHoYo, today's launch is just the beginning of Genshin Impact's journey. On release, players will be able to explore Mondstadt and Liyue Harbor — two of the seven major cities in Teyvat — each with their unique cultures, stories, and vast surrounding countryside, and both full of a diversity of creatures, monsters, mysteries, and hidden treasures. The game will continue to expand with more cities, follow-up stories, new characters, and seasonal events through live-service updates to enrich the gameplay and exploration of the world of Teyvat. Future patches will also seek to continually optimise Genshin Impact's technical performance for each platform.
Follow us for the latest news, updates and deals!
---