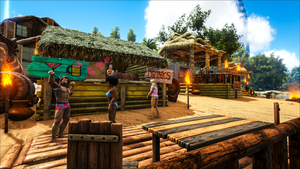 GRAB SOME SHADES & CATCH SOME RAYS! ARK A SURVIVAL EVOLVED'S "SUMMER BASH" BEGINS
It's gettin' hot in here, so time to break out your shades and catch some rays in the ARK: Survival Evolved 'Summer Bash 2020!' Players can now deck out their characters in hot Hawaiian shirts, then take down enemies with new water-gun Skin weapons. From June 25th to July 14th, get ready to take advantage of gameplay bonus rates and fun with over 15 seasonal summer cosmetics exclusively launched with the ARK Summer Bash.
Have fun in the sun with four different Hawaiian shirt Skins and three new swimsuit Skins. Sport new summertime weapons Skins, including the BBQ-themed Grilling Spatula (Club Skin), the Frisbee (Boomerang Skin) and the Super Soaker style Squirt Gun Skin (Flamethrower). Gotta catch all those ARK wild Summer-colored Creatures and Aquatic Chibis? Five new ones - Manta, Ammonite, Cnidaria, Plesiosaur, and Astrocetus - will debut in this summer event.
Lastly, during the Summer Bash 2020 survivors will be able to breed their dinos at three times the normal rate, gain XP four times as fast, and four harvest times - ARK's summer celebration is only here for two weeks so make the most of it!
Follow us for the latest news, updates and deals!
---