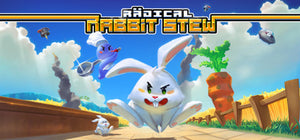 Grab your super spoons save the space chefs! Radical Rabbit Stew has hopped onto consoles & PC
Get your super spoons ready! Sold Out is delighted to confirm that action-arcade puzzler Radical Rabbit Stew is available to download  on Nintendo Switch, PS$, Xbox One and PC
lending fast-paced gameplay with creative puzzle-solving and super-sized boss fights, Radical Rabbit Stew is a frenetic arcade-puzzle game that cooks up pick-up & play action with juicy pixel graphics and a sizzling soundtrack.
Players who pick up Radical Rabbit Stew on Nintendo Switch, Xbox One and PC during the first week of release will receive a 10% launch discount, letting them hop into the hare-raising action at a reduced price.
Plus, on PS4, players can hop into the Radical Rabbit Stew: Digital Deluxe Edition, a bumper edition containing the game plus the digital soundtrack, an exclusive theme and 8 avatars.

Radical Rabbit Stew has a fantastic mix of charm, intelligent design, nostalgic visuals and action-packed game play that we know players will love, We're excited for players to hop into the game and save the space chefs from the wicked Rabbit Queen today
by Sarah Hoeksma, Marketing Director at Sold Out
Follow us for the latest news, updates and deals!
---