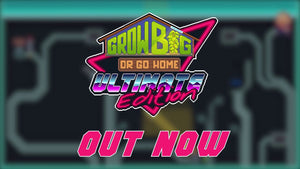 Grow Big (or Go Home) Ultimate Edition Out Now on Steam
2D pixel-art indoor gardening simulator
Independent development studio Quarant Inc. has released a major free update for Grow Big (or Go Home) on Steam. The game is already available on Steam for £6.19 (discount of 37% applies so £3.90 for the next two weeks).
Grow Big (or Go Home) is a 2D pixel-art indoor gardening simulator in which you play as Bruce, the world's most talented indoor gardener, through 30+ fast-paced levels.
"We wanted to provide players with some hectic fun which is easy to learn but challenging to master", says Killian Mangan, Team/Creative Lead at Quarant Inc. "We are most proud of our entirely original music and our visually diverse pixel-art style and locations''.

In Grow Big (or Go Home): Ultimate Edition you'll travel to new locations and eras in order to water, light, and tend to the most tricky plants with the high-tech magic of a watering can and a reflective mirror.
Ultimate Edition Features
16 new hard-mode levels to add an extra challenge upon completion of the main game.

A significantly-improved procedurally-generated replayable level set in Hell, with all new high-scores.

3 new outfits, which can be unlocked by gaining enough stars in levels.

3 brand new locations - Japan, Atlantis, and VR World.

Major visual upgrades and changes to almost all levels.

Full-expanded and improved original music themed to each location that the player visits.

Improved tutorials and settings.

Spanish language options added.

Cute dog and petting mechanic added.
Follow us for the latest news, updates and deals!
---