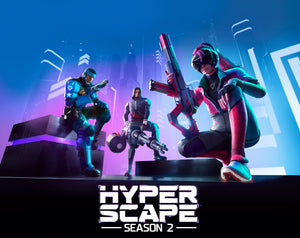 HYPER SCAPE SEASON 2 ARRIVES NEXT WEEK
Log in to Hyper Scape this Weekend to Experience The Special Event Project Tower
Today, Ubisoft® announced that Season 2 of Hyper Scape will release next week on 6th October. This Season, called "The Aftermath," will introduce a new weapon, a new hack, new game modes, a new Battle Pass, and much more to discover. Prior to Season 2, players will get the chance to participate in Project Tower, a special event coming to Hyper Scape on 4th October from 6pm to 7pm BST. Since the beginning of Season One, glitches have been found in the streets of Neo-Arcadia, hinting at something out of control in the Hyper Scape. It's now time for Prisma Dimensions to confront this threat head on.
NEW CONTENT COMING WITH SEASON 2 During this season, players will get the chance to discover a new district and try a new weapon, the Atrax, which bursts sticky explosives that detonate after a certain period of time. During the season will also come a new limited-time hack coming mid-season, Platform, which allows players to deploy a horizontal platform useful for navigation and offering new creative opportunities.   Over the course of Season 2 Hyper Scape will also offer several brand new game modes, including Crown Rush Duo and Floor is Lava. The Platform hack will be key for Floor is Lava, where the ground is transformed into a deadly magma. On top of those new modes, Season 2 will also see the return of Crown Rush, Faction War and Turbo Mode, with more to be revealed later in the season.
NEW GAME FEATURES New for Season 2, a ranking system will be available, giving players a way to see how they fare amongst other contenders. The rank will be formed based on the ten best matches of each player – Bronze, Silver, Gold, Platinum, Diamond or Champion. Only matches played in Crown Rush Squad will count for the rank. As part of the rotating Limited-Timed Modes, Crown Rush Solo will be available during the Season with a new twist, Second Chance. Second Chance gives players the opportunity to redeploy into the battle when they are eliminated early in the game.   Starting with Season 2, players will get a Daily Gift every day they play Hyper Scape. The Daily Gift can include different items, such as Battle Points or cosmetics. A new 100-Tier free and premium Battle Pass will also be launched, including brand new exclusive Champion outfits, weapon skins, deployment pods and more.
NEW COMIC Yesterday, Hyper Scape and Dark Horse Comics published the second issue of the Hyper Scape comic, "HYPER SCAPE #1 The First Principle Part 2." "HYPER SCAPE #1 The First Principle Part 2" is the second issue in a free digital series made up of twelve ten-page comics to be released monthly. It is available now on the Hyper Scape website as well Dark Horse Digital, Comixology, and other digital comics websites.   Those are just a couple of the new features soon available in Hyper Scape, with lots more to discover when Season 2 launches on 6th October.  
Follow us for the latest news, updates and deals!
---