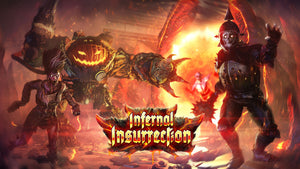 Killing Floor 2 Infernal Insurrection Update Brings the Heat to PlayStation®4 Xbox Oneand PC Today
Tripwire Interactive Celebrates Over 11 Million New Killing Floor 2 Downloads on the Epic Games Store with Free Update Ahead of Halloween
Publisher and developer Tripwire Interactive invites players to celebrate Halloween early this year with today's release of the free Killing Floor 2: Infernal Insurrection seasonal update. Out now and running until Tuesday, November 10 for PlayStation®4, PlayStation®4 Pro, Xbox One, Xbox One X, and PC via Steam and the Epic Games Store, today's update brings the heat with new weapons, Halloween-themed zeds, and a brand new map inspired by the famous King's Cross railway station.
Today's Killing Floor 2: Infernal Insurrection update launch also follows the title's recent debut on the Epic Games Store as a free title in July along with the introduction of PC cross-play between Steam and Epic Games Store players. With over 11 million new Killing Floor 2 downloads since July, there's never been a bigger, better or more brutal time to join the fun for 6-player co-op and 12-player VS battles!
The Killing Floor 2: Infernal Insurrection update is also part of Tripwire Interactive's longtime commitment to release free seasonal content updates for players since the game first launched in 2016.

Major highlights from today's Killing Floor 2: Infernal Insurrection update launch include:

New Map
Hellmark Station

The gates of hell have opened up in the railway station formerly known as King's Cross, flooding the iconic depot with devilish monstrosities and fiendish beasts. Team up with fellow mercenaries to fight back this demonic zed threat and make sure Hellmark Station does not become your final destination.
Modes: Survival, Endless, and Weekly
New HRG Weapons
HRG Scorcher – Firebug Class Bonus
Light up the night with the HRG Scorcher. This heavily modified flare gun packs a significant punch and leaves wounded enemies burning. Lit targets are easy to spot, making the Scorcher a useful tool for marking targets for your team!
HRG Arc Generator – Survivalist Class Bonus
This shocking new weapon offers several firing modes that allow for quick EMP blasts that chain between nearby targets "at the speed of electricity," or charged up for slower charge blasts that can travel longer distances.
Creepy Cosmetics
Celebrate Halloween, the Killing Floor 2 way, and trick or treat yourself with tons of spooky new seasonal objectives, seasonal drops via tickets, and insane monster-themed looks from now until Tuesday, November 10.
Killing Floor 2 players can also update their armory further with the new Minigun for the Commando class, Mine Reconstructor for the Field Medic, and a variety of cosmetic and weapon skin bundle specials. Head to the official Killing Floor 2 website for full details.
To celebrate the release of the update and the Halloween Season, Tripwire will be participating in a number of ghoulishly good Halloween Sales promotions! Be sure to follow Tripwire's social channels for information on special sales discounts coming in October!
In Killing Floor 2, players descend into continental Europe where the outbreak caused by Horzine Biotech's failed experiment has quickly spread and gained unstoppable momentum, essentially paralyzing the European Union— Just one month after the events in the original KILLING FLOOR, the specimen clones are everywhere and civilization is in disarray; communications have failed, governments have collapsed, and military forces have been systematically eradicated. The people of Europe know survival and self-preservation too well and lucky survivors have gone into hiding.
Not all have given up hope though... A group of civilians and mercenaries have banded together to combat the outbreak and established privately funded operation bases across Europe. Upon tracking specimen clone outbreaks, players will descend into zed-laden hot zones and exterminate them.

Follow us for the latest news, updates and deals!
---