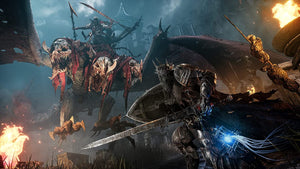 Lords Of The Fallen Available For Pre Order
Lords Of The Fallen is now available for pre order with £5 back on every £100 spent.
"After an age of the cruellest tyranny, the demon God, Adyr, was finally defeated. But Gods… do not fall forever. Now, aeons later, Adyr's resurrection draws nigh. Humanity's only hope lies with the Church of Orian Radiance - the last warriors of light, in a world that grows ever darker. This divine order has unearthed a device of unholy power - a lantern that grants the ability to cross between the realm of the living and the dead. Contrary to their faith, the Church bestows this black art upon only their most ferocious and loyal champions - The Dark Crusaders.

To defy the Gods and restore the light, one must embrace the darkness. "
Lords Of The Fallen is developed by Hexworks and published by CI Games. It is scheduled for release on 13th October 2023.
---