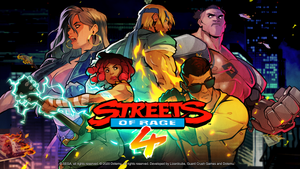 Massive Streets of Rage 4 Update Now Available More Than 1.5 Million Copies Downloaded
Fan feedback drives more than 80 enhancements to the game
 Publisher and co-developer Dotemu with co-developers Lizardcube and Guard Crush Games have announced a new patch for Streets of Rage 4 that brings almost 80 updates, bug fixes and balance changes to the game, all of which were tested by the community itself. The co-developer and publisher also revealed the title has been downloaded more than 1.5 million times.
Streets of Rage 4's new patch brings enhancements and fixes to the game, including:
Specials and start move can interrupt all hitstun states
Axel has been buffed, with a faster move speed and less recovery on some moves
Cherry has been buffed, with her flying punch from combos now being fully invincible
The full patch notes can be found  here
We couldn't be happier with the reception of Streets of Rage 4. We thank the fans who have supported the game from day one - a lot of the updates in the patch enhance the replay value for folks who have been with us from the start, additional updates are currently in production and we'll have more to share on that soon."
by Cyrille Imbert, executive producer on Streets of Rage 4
Streets of Rage 4 is a revival of the classic beat em' up series released in 2020 that was released earlier this spring on PC, Xbox One, Nintendo Switch and PlayStation 4. After not seeing a release for 25 years, Streets of Rage 4 brought the series into the modern era, and received critical praise upon launch. The title featured new and returning fighters, stylish hand-drawn artwork, brand new combat abilities and mechanics, retro pixel character unlocks, and a soundtrack crafted in homage to the sound and style that made the original games so popular. 
Follow us for the latest news, updates and deals!
---