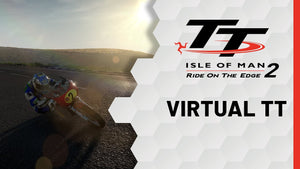 NACON AND KT RACING SET UP A VIRTUAL TT RACE. THE WINNER WILL GO TO THE ISLE OF MAN FOR THE 2021 RACE
The video game TT Isle of Man – Ride on the Edge 2 will be the battleground for virtual riders around the world as they compete to win a trip to the real Isle of Man TT in 2021! 
 Because of the current situation, the Tourist Trophy is reinventing itself! NACON and KT Racing, in collaboration with the Isle of Man TT Races, are pleased to announce TT Ride on the Edge 2020, an online event taking place within the video game TT Isle of Man – Ride on The Edge 2 from June 13 to June 25, 2020.
 Davey Todd, Conor Cummins and Peter Hickman are some of the big TT names who will meet in a unique competition that promotes sportsmanship and fun. The inital competition will be composed of eight different teams. Riders who would have been taking part in the TT Races will get the chance to race against each other and win the first virtual version of the famous race.
After that, gamers from all over the world who play TT Isle of Man – Ride on the Edge 2 on PlayStation4 and PC can enter an open competition and go head to head in an event that runs from June 13 to June 25 the winner will receive a trip for two to the Tourist Trophy on the Isle of Man in 2021 to meet their heroes. The runner-up will win an official and limited-edition TT 2020 Arai helmet! 
Check out the trailer below for more information on the race
---