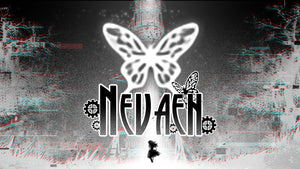 Nevaeh A Girl's Quest to Save the Dark Town comes to Nintendo Switch and Steam
The game publisher CFK will release the new action adventure game Nevaeh on Nintendo Switch and Steam, worldwide.
Street lamps begin to go out one by one, and darkness slowly overwhelms the bright and peaceful town. A girl heads to the Tower, the source of light, in hopes of fixing the lamps. She discovers a glowing butterfly trapped in the Tower, and without hesitation, steals it to borrow its power to bring back light to the town.
A 2D action adventure, CFK's new game Nevaeh features a girl's quest to bring back the light for the dark town. Taking place in the Gothic, monochrome world, the game shows a simple but strong and effective use of light and shadow.
As the girl who stole the butterfly, players will embark on a journey to bring light to the town once again. The journey takes place in the Tower, where players must venture through monsters and traps. Using light and shadow is the key to safely exploring the Tower.
 v
Follow us for the latest news, updates and deals!
---