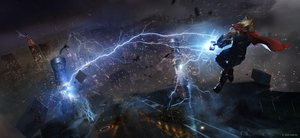 NEW MARVEL'S AVENGERS WAR TABLE DIGITAL STREAM DELVES DEEP INTO THE GAME
Today, SQUARE ENIX® released the first Marvel's Avengers War Table digital stream providing the most in-depth look yet at Marvel's Avengers.
The Marvel's Avengers War Table offers players a world premiere look at new trailers, including a first showing of new Thor gameplay in his, "Once an Avenger" campaign hero mission. This playthrough follows The God of Thunder as he battles enemies with powerful lightning strikes, unleashes a barrage of Mjolnir attacks, and performs many other signature heroic moves solo and with AI Avengers teammates.
  The stream also offers more details on the game's central villain, MODOK (Mental Organism Designed Only for Killing), who Marvel fans will recognize as the artificially mutated, super intelligent overlord of AIM (Advanced Idea Mechanics).
Lastly, Crystal Dynamics revealed brand-new information about War Zones, the game's team-based missions, including their structure and how the Avengers become even more powerful when working together. War Zones can be played either solo with AI hero companions, or in co-op groups of up to four players. The stream also revealed more of the game's world, from AIM's research facilities to a derelict Helicarrier, all of which can be explored by players to earn new rewards, gear, and experience points.
Follow us for the latest news, updates and deals!
---