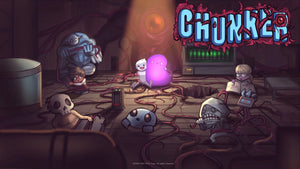 New Roguelite Action Game 'Chunker' Steam Early-Access Available on 17th July
Three Modding Community Maps Officially Added to Full Game Launch with More User-Generated Content Plans On The Way
Shiftrick Inc. (CEO, Kelly Choi) is proud to announce the upcoming release of a newly developed indie game, 'Chunker', to all PC players available on Steam Early Access beginning on the 17th July(
  Chunker is 2D rogue-lite bullet shooting action game implementing a wide bird's-eye view system, exhibiting the eager survival and journey of a young mutative living 'lump' (Chunker), abandoned into the deep underground World after the reckless destroying of the environment and countless cruel experiments conducted by the humans
Chunker is a simple and easy game to play, but players can enjoy 'instant fun' indifferent ways. It released the very first beta gameplay in March and continued to progress in the input of hard effort to improve the quality and gameplay of the game to perfection before the VIP test in June.  
The main purpose of Early Access, in the beginning, is to amend the problems and polish the fun gaming experience, we will continue to receive feedback from our valued players, accommodate each and every one of the comments to provide a unique experience only available by Chunker.  
by Your Name
Main Features are as follow:
- Endlessly pouring Hack and Slash Combat!
Thrilling shooter action game with the view of a bird
- Infinite Skill Enhancement!
The mind-blowing combination of randomly attained skills and Passive skills
- New Round, New Experience!
Marvelous change in the condition from the merging of 'Roguelike',
- Grow Stronger!
Unlock new items and skills from the collected money every round!
Follow us for the latest news, updates and deals!
---