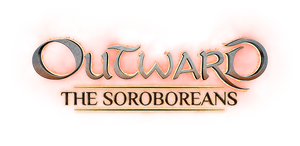 Outward Console DLC Coming Soon !!
Do you have enough Travel Rations for this one?
The Soroboreans content will arrive shortly on consoles July 7, 2020.
With new skills, foes, corruption, enchantments, status effects and a whole lot more, The Soroboreans is packed to the brim with exciting, fresh challenging content. Outward players will need more than just a sense of adventure to conquer these lands.
Launched on March 26, 2019 by the highly creative and ambitious Canadian developers Nine Dots Studio, Outward has cemented its place in gamers hearts from all over the world.
The Soroboreans is the new hard hitting DLC increasing the game by approximately 25 percent and is as packed with content as it is danger.
Do you have enough Travel Rations for this one?
You can buy the Outward base game here on PS4 for just £14.95
Corruption

The level of corruption affects you in different ways and if you can't shake it you could meet an untimely end. The world just got a whole lot scarier!
Enchantments
Weapons, trinkets and armors will now be able to be changed with the new enchanting system!
New Skill Trees and Status Effects
2 new skill trees (The Hex Mage and The Speedster) and reality twisting status effects for your character! That can completely change your gameplay!
New Weapon Type (The Gauntlets)
Deliver a flurry of punches to your enemies and put them firmly back in their place!
Dungeons
Great rewards await those who venture forth within the depths of these deadly, mysterious and interconnected dungeons!
I'm amazed that there are still so many people enjoying Outward more than a year after release,We can't wait to see how our work will be received by the most dedicated players. I love hearing the players stories that emerge of both their defeat and victories!"
by Guillaume Boucher-Vidal, CEO of Nine Dots Studio
Follow us for the latest news, updates and deals!
---