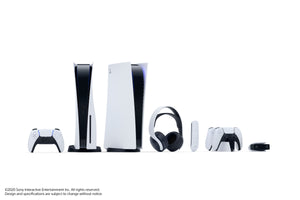 PS5 Reveal Event Roundup
PS5's exclusive game lineup includes blockbuster series such as Marvel's Spider-Man Miles Morales, Gran Turismo 7, and Horizon Forbidden West, along with brand new titles from the industry's top game creators. Check out the screenshots below for the latest look at the newest games;.
Ratchet & Clank: Rift Apart
The gameplay of Rift Apart retains elements of previous Ratchet & Clank games, involving gunplay, collection of bolts, upgradable weapons, and gadgets. Scripted segments also involve Ratchet rushing through new planets. Though most of Ratchet's moveset is identical to that of the previous Ratchet & Clank (2016 game), he has a new move in which he can dash backward while strafing.
Marvel's Spider-Man Miles Morales
Sony has clarified that Insomniac's PS5 Spider-Man game announced on Thursday is an "enhancement" of the PS4 original with a "substantial" expansion.
A Horizon Zero Dawn sequel, titled Horizon Forbidden West, is coming exclusively to PlayStation 5. Guerrilla Games is working on a follow-up, announced today, to the 2017 action roleplaying game. No release window was announced at the event.
Sony didn't reveal much about the game, but it did show a map that seems to be used in the game's campaign mode as well as an extended scene from inside the cockpit of one of the cars.
Follow us for the latest news, updates and deals!
---