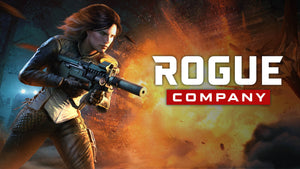 Rogue Company Goes Free-to-Play Today - Over 2 Million Players on PC and Consoles
Cross-play & cross-save on Switch, PC, PS4 and Xbox One
First Watch Games® and Hi-Rez Studios® have today made their stylish cross-platform team shooter Rogue Company™ free-to-play worldwide on Nintendo Switch™, PC via Epic Games Store, PlayStation®4 and Xbox One®.
From today, players can enjoy Rogue Company's third-person action, tactics and attitude for free across all four platforms - complete with full cross-play and cross-save support. Any DLC will be cosmetic only, there's no pay-to-win here.
In celebration of the free-to-play launch, developer First Watch Games has added a new Rogue to the roster of playable mercenaries: Dahlia is an uncompromising former military officer and one of the most decorated squad leaders in the world. She never hesitates to make difficult decisions on the battlefield and doesn't care what people think of her - she just wants to get the job done.
Welcoming over 2 million people to the early access game since July, Rogue Company is the most successful ever game launch from publisher Hi-Rez Studios. With the numerous additions since July, including last week's popular new Lockdown map- plus the regular updates on the roadmap, Rogue Company has a very bright future.
Headed-up by Lead Game Designer - and former Halo world champion - Scott Lussier, Rogue Company is the debut game from First Watch Games; a band of Hi-Rez Studios developers and industry veterans with experience working on some of gaming's most famous and successful shooters.
From today, players will be able to play Rogue Company free-of-charge, regardless of platform", says Lussier. "Whether playing on Switch, PC, PS4 or Xbox One, gamers will enjoy the same intense third-person action at a minimum 60 fps".
 "From July's early access launch we've gathered a huge community of over 2 million cross-platform gunslingers", says Chris Larson, Executive Producer. "Their invaluable feedback has ensured the game keeps getting better and better. By making the game free and delivering an ever-growing roster of mercenaries, game modes, weapons and gadgets we're incredibly excited for many more players to join us in Rogue Company".
Follow us for the latest news, updates and deals!
---