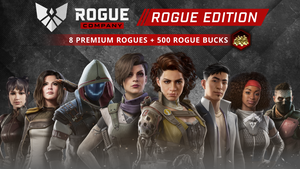 Rogue Company Launches First Season with New Playable Rogue and First Battle Pass
Kicking off the first Season with a bang
Today the world's top hired guns got their biggest new content drop yet as Rogue Company kicks off its Season One. This major update for First watch Games'' slick cross-platform shooter is out on PlayStation 4, Xbox One, Nintendo Switch, and PC – plus on Xbox Series X & S where Rogue Company has been available for free as a native game since release.
New Rogue: Kestrel Out today is Rogue Company's new playable Rogue, Kestrel. She can be unlocked for free just by playing games just like her equally flamboyant existing counterparts.
One of the founding members of Rogue Company, Kestrel has long since retired. But today the elite organization needs her back to even the playing field against the Jackal. Kestrel has answered the call, and not without class.  

Kestrel is armed with two new automatic weapons and can unleash self-driven rocket-firing drones with her active ability. Passively she makes the best of her reputation for excellence by claiming extra cash every time she downs a target.   Additionally, Kestrel is the first to make use of a new perk, Resupply. It causes eliminated enemies to drop a supply kit which refills all purchased Gadgets – a most lethal tool in the hands of creative thinkers.
New Battle Pass & yearly bundles Also out today, the Season One Battle Pass—Rogue Company's first—unlocks 50 cosmetic items radiating danger, attitude or both. Hellfire Protocol Scorch supervises the operations as the ultimate reward.
Players progress through the Season One Battle Pass simply by playing, with many items being absolutely free. Among those are account boosters, an all-new type of reward exclusive to the Battle Pass. There is more for anyone who purchases the Premium Pass for 1000 Rogue Bucks, including as an instant reward the aptly named One Shot One Kill outfit for The Fixer, the notorious Atlanta-based sniper.

In addition, three new high-value bundles can be purchased in-game to dive into Rogue Company's first Season with style.  
 Rogue Edition – For just $24.99 it unlocks 8 playable Rogues from last year, plus 500 Rogue Bucks.
Year 1 Pass – For $24.99 as well, it proactively unlocks all 8 Rogues that will join the game in 2021, plus 500 Rogue Bucks.
 Ultimate Edition – For $49.99, it contains both bundles and adds 500 Rogue Bucks on top—that's 1500 in total.
Both ensuring a fair competition and providing the thrills of accomplishment, Rogue Company's Ranked mode is now made of Tiers split into divisions where players rise and fall based on performance. This structure is complemented by new features such as placement matches, party restrictions, and seasonal rewards.

Follow us for the latest news, updates and deals!
---