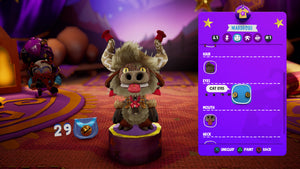 Sackboy: A Big Adventure - Review (PS4/5)
A sack-full of 3D platforming fun
Forget what you know about Media Molecule's LittleBigPlanet series for Sackboy's latest outing shakes up the franchise's traditional creative formula. Sackboy: A Big Adventure, a spin-off courtesy of Sumo Digital ventures far from the concept of letting loose your imagination and sharing your creations with the world. In its place stands a streamlined focus on 3D platforming. The game kickstarts with a breathtaking cinematic that depicts the villainous Vex invading Craftworld. The comical baddie can be seen enslaving helpless sackfolk on a mission to build his Topsy-Turver machine and take over the world with his evil uproar. The player takes control of Sackboy and must navigate Craftworld's multitude of levels in an attempt to foil Vex's dastardly plans.
Although a spin-off, Sumo Digital play to most of the series' trademark strengths - great news for existing fans. Sackboy's latest crusade is complete with a morally-rich tale featuring a commendable cast of familiar voices and beguiling hand-crafted worlds that are utterly delightful to traverse. There's no denying the series has always possessed an eye for detail that can turn the heads of children and more mature audiences alike. Yes, with an abundance of similarities, it's difficult not to draw a direct comparison to the core series but its latest addition is also boasting its fair share of nuance. Sumo Digital have ditched the franchise's prior 2.5D design and replaced it with fabulous, full-frontal 3D platforming, enough to bring a solemn tear of pride to the eyes of Crash Bandicoot and Spyro.
Variety - the spice of life
It's almost impossible when trekking through the story not to feel completely enamoured of the commendable level design. All the hallmarks of the genre are present from disappearing platforms to pesky minions of Vex standing as obstacles between you and the stage's end. Sackboy has an arsenal of abilities at his disposal to help get him from A to B and all are fluid and smooth thanks to an expanded range of 3D movement that's been alien to the series until now. Sumo Digital do well to ensure the levels are chocca with variety. The works to compliment the lengthy campaign that easily puts their former underwhelming efforts with the LittleBigPlanet 3 story to shame. The core series' instalments settled primarily on a sidescroller perspective. Fortunately, A Big Adventure is free of such limitations which sets it well apart from the rest of the franchise

Each level has its own identity, distinguishing itself enough from the last to halt any repetitive vibes in their tracks. Tucked away throughout are mini-game stages amidst an abundance of collectibles. Let's be honest, any 3D platformer without a good collectathon is like a fish out of water. This definitely arouses a fierce desire to explore. Some optional areas are particularly well hidden, encouraging you to fully utilise your abilities to uncover secrets in exchange for a profound sense of accomplishment. Whether you are collecting dreamer orbs to push back the uproar and progress with the campaign or procuring prizes to add to Sackboy's wardrobe, there's plenty of incentive driving you to scout out every nook and cranny.
Design worthy of a round of applause
Generally speaking level design is seriously impressive and broken up appropriately by eccentric boss battles that adopt the quintessential three-stage layout of most 3D platformers. "Rhythmic" levels are the true standouts though. These feel like a right blast from the past, a cute little love letter to levels like The Lost City and Sunset Vista in Crash Bandicoot, that revolve around moving with the beat. The levels themselves feel like they're bouncing in time to the music. It's clear the tracks have been hand-picked as the sort of music you throw on to have a dance to, praying no one catches you mid act. In some instances the music refuses to progress until you reach a certain point to maintain timing and show-off shrewdly constructed set pieces well-worthy of a round of applause. These levels are teeming with fun and charisma and really alternate the overall pace of the game.

A Big Adventure is split into six "chapters", each with a unique aesthetic and hub area. Here the player may progress with the story or explore and stock up on Collectabells - the in-game currency. These are used for buying cosmetics for Sackboy. Although our once silent protagonist has really sunk into the role of a 3D platforming mascot, there's still an element of creativity in being able to personalise him. If you're a previous LittleBigPlanet enthusiast, don't sit there reading this in denial of the amount of hours you would dedicate to dressing Sackboy. Granted the customisation is not as in depth but it's still a great novelty and throwback where it all began. Sackboy can still pull faces, gesture and now even emote - a fab way to interact when playing cooperatively.
Multiplayer madness
Yes, online multiplayer made its debut alongside a PS5 update allowing players to enjoy the entirety of the story with up to three friends or randomers. There's Teamwork levels where as the name states, players must pull together to beat the stage. Solving team orientated puzzles truly adds a new dimension to the ways in which the gameplay already excels. It really is wholesome that although originally intended as a single-player experience, Sumo Digital have once again embraced the series' famed sense of community. Online multiplayer is easily accessible at any time from the pause menu - a charming little convenience. You may incur issues should you connect to a bad host online. An undeniable hindrance when throwing each other across perilous pits with an unstable connection. That said it is nowhere near on par with the technical issues that overshadowed LittleBigPlanet 3.

The replayability is strong with this one
Sackboy: A Big Adventure has a strong replayability element even if it ventures far from its sandbox brethren. Acing levels and seeing them at 100% completion is insanely cathartic and makes certain you can accumulate heaps of playtime in the story alone, nevermind the post-game levels to boot. There's also Knitted Knight trials and remix-levels which are essentially timed stages that pose an extra challenge if you're feeling frisky. But alas, even if you are just looking to stock up on a few more dreamer orbs to usher forward your progress with the story without having to replay and gather ones you missed prior - this is the way to go.

Summary

Sumo Digital set out to bestow upon players a solid and quirky single-player platforming experience, one in-keeping with all that's good and charming in the series. It's safe to say they've emerged triumphant with a title channelling all the makings of a platforming classic. Sackboy: A Big Adventure feels like such a refined and polished series spin-off that'll easily see to that platforming itch of yours. Presenting equal parts a challenge and the light-hearted fun you'd expect from the genre, it truly pays great homage to the 3D platforming classics so many of us hold close to our hearts. A Big Adventure is fluffed out and teeming with great content that effortlessly justifies the asking price. The recent addition of online features also means that whether you plan on playing alone or with others, Sackboy: A Big Adventure will be a divine addition to any player's PlayStation library.

8/10
By Nicole hall
a games journo with words at Official PlayStation Magazine, Eurogamer, Den Of Geek, Push Square, The Sixth Axis, Daily Star and SquareXO.
Follow us for the latest news, updates and deals!
---