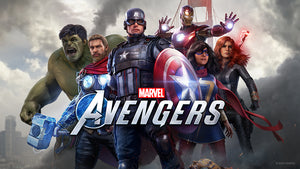 SECOND MARVEL'S AVENGERS WAR TABLE DIGITAL STREAM PREMIERES JULY 29
Marvel's Avengers War Table Will Dive Deep into the Game's Upcoming Beta Program, Which Starts August 7th
Today, SQUARE ENIX® announced that the next Marvel's Avengers War Table digital stream will premiere on July 29 at 6:00pm BST and will provide an exclusive in-depth look at the Marvel's Avengers beta program, which begins on August 7.
 The Marvel's Avengers War Table offers a world-premiere look at new trailers and information about the upcoming Super Hero game. The first digital stream debuted on June 24 and included a reveal of new Thor gameplay, details on the game's central villain, MODOK (Mental Organism Designed Only for Killing), and brand-new information about War Zones, the game's team-based missions, including their structure and how the Avengers become even more powerful when working together.

  On July 29, the second Marvel's Avengers War Table will give the most complete look to date at what players can expect from the game's upcoming beta program, which launches August 7. Fans can anticipate several exclusive new videos that will dive deep into the content that will be included in the beta, as well as insight about the design and creation of Marvel's Avengers. Attentive viewers may also spot hidden details inserted to whet their appetite for future content and announcements.
The Marvel's Avengers beta program begins on August 7 exclusively for PlayStation 4 owners who have pre-ordered the game and will be available until August 9. On August 14, the beta will open up for all PlayStation 4 owners and run until August 16.
The beta for those who pre-ordered Marvel's Avengers on Xbox One and PC will begin on August 14 and will run until August 16.

Finally, on August 21, the beta program will be open to all PlayStation 4, Xbox One, and PC players and run through August 23.

Follow us for the latest news, updates and deals!
---