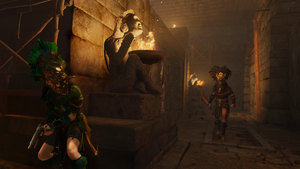 Shadow of the Tomb Raider New DLC and Screenshots
Experience "The Serpent's Heart" DLC and endure the mighty Slayer's Gauntlet in an attempt to save the lives of loyal rebels. Lara must infiltrate an enemy fortress to stage a daring prison break, then engage in a battle against evil Kukulkan cultists. Lara must also complete the Slayer's Gauntlet and navigate roaring rapids in order to receive the power of the serpent god.


Those who complete the challenge tomb will be rewarded with the Divine Bounty skill, which causes fallen foes to yield more gold coins when looted. "The Serpent's Heart" also features the Dragon Scales outfit, which reduces fire damage, prevents stumbling, and accelerates health regeneration. Finally, players will receive The Serpent Lash bow, which deals out extra fire damage.


As part of the update, tombs from the main campaign, "Judge's Gaze," "Underworld Gate," "Howling Caves", "Path of Battle," "Temple of the Sun," "San Cordoba," "Ancient Aqueduct," and "Thirsty Gods" are all now playable in Score Attack and Time Attack modes.
---