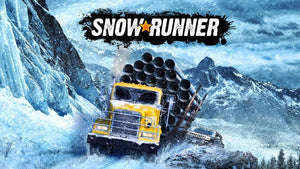 SnowRunner's Season 2 is available today continue the adventure with new maps new vehicles and much more!
Three Modding Community Maps Officially Added to Full Game Launch with More User-Generated Content Plans On The Way
SnowRunner, the ultimate off-road experience developed by Saber Interactive and published by Focus Home Interactive, introduces a truckload of new content with Season 2: Explore & Expand, available today on PlayStation 4, Xbox One, and PC. Season 2 brings new gameplay mechanics, new customization items, new vehicles, new maps, as well as free content for all players.
Two new maps, Flooded Foothills and Big Salmon Peak, in the new Yukon, Canada region. Both are 4km² and mean the game is now 50% bigger than at launch! 

 Three new vehicles. The CAT 770G, the largest truck ever in the franchise. The CAT TH357D AG, a versatile forklift. Finally, the KRS 58 "Bandit", an 8x8 with a built-in light crane, great for rescue missions.

New pioneering gameplay. For the first time in the series, strive to build brand new facilities and bring the wilderness under control with a Large Ore Processing Plant made of 3 smaller buildings. New cargo crafting and raw material collection from disassembly supports this. 
 A host of customization upgrades, including interior and exterior customization items.

Season 2 also brings free content, accessible to all players with today's update. This includes two new Trials, two new Xtreme Cargo, new missions in the Taymyr and Alaska regions, and some additional cosmetic options.   SnowRunner and Season 2: Explore & Expand are available today on PlayStation 4, Xbox One, and PC as a standalone DLC or as part of the Season Pass. The Premium Edition of the game includes both the base game and Season Pass
Follow us for the latest news, updates and deals!
---