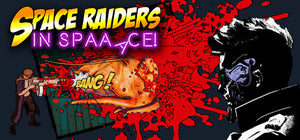 SPACE RAIDERS IN SPACE comes to PC this summer
The elaborate graphic novel-style tower defense game is being published by Destructive Creations
Destructive Creations, the team behind the critically acclaimed RTS Ancestors Legacy, has started collaborating with a talented and similarly minded team - 2 Stupid Devs. Not fooled by each other's names, DC will be publishing 2 Stupid Devs' first title – a tower defense game with a strong graphic novel storyline and a pinch of self-centered humor – Space Raiders in Space.
Space Raiders in Space is a tower defense roguelike game built around humanity's first encounter with intelligent extraterrestrial life (eh, can bugs really think?). But as history proves, first encounters may start with a hug, but they can easily end with a knife in the back. Don't trust everything you see; sometimes salt looks like sugar.
The gameplay is based around 5 tasks for the almost competent crew: Search, Build, Defend, Attack, and Cower. These are used to loot for weapons and supplies, build defenses, and fight your way through the Bugpocalypse – waves of bloodthirsty space bugs eager to have some human flesh for dinner. Waves upon waves of troublesome insects need to be squashed in the biggest space deratization event in the history of the Universe.
With over a dozen defensive structures, a hefty arsenal of various weapons and the crew members' own quirks, there are many strategies to be explored, as well as several gameplay modes, ensuring a high replay value. Sometimes there is no such thing as a good choice and one has to choose what is subjectively the lesser evil.
 With Early Access available on Steam for a couple of months, the game has been expanding significantly, regularly adding new game modes, levels, characters, weapons, enemies and other goodies. Community feedback has proven to be really valuable in driving the game in the right direction and Destructive Creations' experienced team is bound to push it even further, into the outer rings of the Milky Way.
Features of Space Raiders in Space:
 Simplicity with Depth - The orders you can give are simple; the strategies you can achieve with them are surprisingly complex.
Challenging Maps - As you loot your way through the galaxy, the different locations you explore will present unique tactical challenges for you to conquer via clever use of weapons, fortifications, and orders.

Unique Weapons - Penetrating Crossbows, Slashing Swords, Armour-piercing Snipers, Crushing Hammers, and many more categories of weapons, each with multiple tiers and rarities.

Super Time Stop Powers - Pause the game mid-combat to evaluate your strategy and give orders. It will help, but sometimes there are just too many bugs.

Official ranking of the best players.

Follow us for the latest news, updates and deals!
---