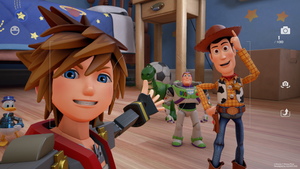 SQUARE ENIX and Ad Council Form Groundbreaking Partnership Against Bullying
The Ad Council will work with Square Enix, Inc. to include KINGDOM HEARTS III characters in the anti-bullying campaign, Because of You, with the goal of inspiring teens to build a more inclusive and welcoming community. A new PSA featuring iconic characters from the KINGDOM HEARTS franchise encourages teens to consider the impact that their actions—positive or negative—can have on peers. The innovative program marks the first time the Ad Council has created a PSA with a video game publisher on a social good effort.

Featuring footage from the new KINGDOM HEARTS III video game, the PSA reiterates the message that because of you, someone's day, year or life can change forever. With heroes and villains from Disney's Frozen, Disney•Pixar's Toy Story and more, the new creative is being distributed to media outlets nationwide and will run in donated time and space per the Ad Council's model. PSA timing shortly follows the game's anticipated launch on January 29, 2019.

"At its core, the KINGDOM HEARTS series is about the power of friendship and helping those in need in order to overcome darkness," said Brendan Docherty, Sr. Manager, Product Marketing at Square Enix. "The KINGDOM HEARTS story is filled with characters overcoming trials and tribulations through friends helping and supporting each other in tough times. We thought these themes matched very well with the valuable life lesson of the Because of You campaign."

Recent data shows that two-thirds of teens say they've experienced bullying, but most of them don't think they contribute to the problem. This means many teens aren't aware that their actions may be hurtful to others and they don't always realize when they've crossed the line from joking around to saying something harmful. The Because of You campaign is a movement encouraging teens to reflect on the power of those words and actions.

"Because of You is all about how your actions, for better or for worse, can have a big impact on those around you,and helping teens think about how those decisions could affect others," said Anastasia Goodstein, SVP of Digital Product Management at the Ad Council. "KINGDOM HEARTS III is one of the year's biggest game releases, and we're excited to see the game's message of support and friendship reach millions of teens. It's a great fit with our campaign's idea that everyone should reflect on the power of their actions."

Fans of KINGDOM HEARTS III can visit BecauseOfYou.org and learn more via https://becauseofyou.org/kingdomhearts/. They can also explore the rest of the site and take stock of their own behavior through "Honest Cards," an interactive tool that prompts users to consider positive and negative behaviors and what impact those actions have on others.

To learn more about the campaign follow @BecauseOfYou on Facebook, Instagram, and Twitter with the hashtag #BecauseOfYou.
If you place an order at Amazon UK using the links below, we get a small commission which helps support the site;
Order Kingdom Hearts 3 on PS4 at Amazon UK
---