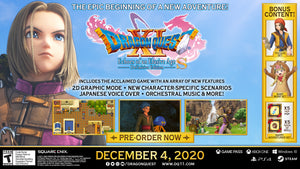 START YOUR GRAND ADVENTURE IN DRAGON QUEST XI S ECHOES OF AN ELUSIVE AGE – DEFINITIVE EDITION
Definitive Edition of Critically-Acclaimed RPG Comes to PlayStation®4, Xbox One and PC Later This Year
DRAGON QUEST® fans around the world will rejoice as Square Enix Ltd., announced DRAGON QUEST® XI S: Echoes of an Elusive Age™ – Definitive Edition will make its way on to PlayStation®4 computer entertainment system, the Xbox One family of devices as an Xbox Play Anywhere title, Windows 10 and PC (STEAM®) on December 4, 2020. This marks the debut of the beloved series on Xbox and the game will be available at launch on Xbox Game Pass for Console and Xbox Game Pass for PC, bringing its unique art style and rich storytelling to a whole new audience.
DRAGON QUEST XI S: Echoes of an Elusive Age - Definitive Edition promises to be an enthralling and unmissable adventure for RPG fans. The perfect first step into the world of DRAGON QUEST for the uninitiated, players will follow the perilous journey of the Luminary, a hunted hero who must uncover the mystery of his fate with the aid of a charismatic cast of supporting characters. Embarking on a quest taking them across continents and over vast oceans they will learn of an ominous threat facing the world
New character side stories – Get to know your fascinating cast of companions more than ever with individual side stories and adventures
Retro 2D mode - In addition to stunning 3D you can also choose to play in 2D with retro inspired graphics of classic 16-bit RPGs
16-bit World of Tickington – Journey to past DRAGON QUEST worlds full of additional side-quests re imagined in the retro style
Japanese audio – Choice to play the entire game with all-new Japanese voice over or the original English
Fully Orchestrated Soundtrack – Ability to switch between the symphonic soundtrack or the original synthesised soundtrack as you travel the world of Erdrea
Photo mode - Immortalise your adventure with the perfect image. Rearrange characters, set different poses, change angles etc. are just some of the features available in Photo Mode
Follow us for the latest news, updates and deals!
---