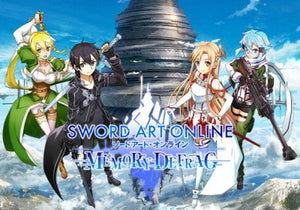 SWORD ART ONLINE: MEMORY DEFRAG LAUNCHES SECOND ANNIVERSARY CELEBRATION CAMPAIGN
BANDAI NAMCO Entertainment Inc. today announces that the action role-playing mobile game, SWORD ART ONLINE: Memory Defrag, is celebrating its 2nd Anniversary with an ongoing campaign—beginning from February 4, 2019 —that features a variety of login bonuses and in-game upgrades.
Most notably, the 2nd Anniversary campaign will introduce significant improvements to SWORD ART ONLINE: Memory Defrag's Guild system, including:
Guild Missions

By clearing missions, players can fill out 4x4 Bingo-style cards and earn completion rewards
Multiplayer missions, along with monthly guild mission updates, will also be introduced during the campaign

Background Customization

Commanders and Vice Commanders can change the background of their guild pages; backgrounds can be purchased with Col in the guild shop
Players can also upgrade backgrounds by using special rewards obtained from guild missions; upgraded backgrounds will provide beneficial effects during quests
As an added bonus, players who log in during the anniversary campaign period will receive a guaranteed 5★ (or higher) character, along with a 4★ (or higher) weapon when Scouting. Additionally, those who log in on multiple days will have the opportunity to have 6★ [Noble Integrity Knight] Alice and up to 100 Memory Diamonds (25 per day) sent to their Gift Boxes. The 2nd Anniversary campaign will also signal the return of Break Battles, where players race against the clock to complete a series of consecutive quests for special rewards.
---