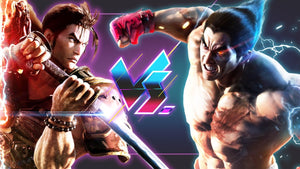 TEKKEN 7 AND SOULCALIBUR VI ONLINE CHALLENGE EXHIBITION SCHEDULE ANNOUNCED ALONG WITH NEW UPDATES FOR BOTH TITLES
New updates and online tournaments for TEKKEN 7 and SOULCALIBUR VI were announced this past Friday during the historic Japanese Fighting Game Publishers Roundtable event.
TEKKEN 7
Get ready for the next battle with Season 4 of TEKKEN 7! Season 4 will include a balance update that will give new moves to all characters and provide an overall better online experience with online play enhancements.
Soulcalibur VI + Tekken 7 double pack on PS4 for just £21.95 
SOULCALIBUR VI
Setsuka returns to the stage of history! Wielding a hidden blade in her parasol and a desire for revenge, Setsuka unleashes her rage upon those who stand in her way. Setsuka is part of Season Pass 2 for SOULCALIBUR VI and can also be purchased as a standalone DLC character. In addition to Setsuka, Season Pass 2 will also include a new Character Creation parts set which will feature some TEKKEN items. This Character Creation parts set will enable players to deck-out their favorite warriors in different outfit and gear. Setsuka and the Character Creation Set E parts set will be available beginning August 4th, 2020. Watch Setsuka destroy her enemies in this new trailer 
Bud Light Joins as Sponsor of TEKKEN 7 and SOULCALIBUR VI Esports Events in 2020
In addition to the TEKKEN and SOULCALIBUR Online Challenges, BANDAI NAMCO Entertainment Inc. and Bud Light are coming together for the second year of the Bud Light Beer League with tournaments for TEKKEN and SOULCALIBUR. "Bud Light is excited to partner with BANDAI NAMCO Entertainment Inc., TEKKEN, and SOULCALIBUR to grow our relationship in its 2nd year through the Bud Light Beer League and integration into their online events. We look forward to bringing new experiences to TEKKEN & SOULCALIBUR fans and the fighting game community," said Joe Barnes, Director for Bud Light Sports Marketing.
Follow us for the latest news, updates and deals!
---