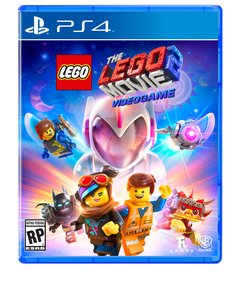 The LEGO Movie 2 Videogame Announced today!
Journey into Outer Space, Discover New Worlds, and Unleash Master Building Skills In a Galactic Adventure Spanning the Systar System!
Warner Bros. Interactive Entertainment, TT Games and The LEGO Group today announced The LEGO® Movie 2 Videogame, inspired by the much-anticipated sequel The LEGO® Movie 2: The Second Part from Warner Bros. Pictures and Warner Bros. Animation Group. The LEGO® Movie 2 Videogame will be available for Nintendo Switch™ system, PlayStation® 4 computer entertainment system, the Xbox One family of devices, including Xbox One X, and PC in 2019 alongside the film and a collection of The LEGO® Movie 2 building sets. Based on events from The LEGO® Movie 2: The Second Part, alien invaders have left Bricksburg in ruins! It is now up to Emmet, Lucy and a host of heroic characters to go beyond their world and save their friends from the strange inhabitants of the Systar System. "Packed with fan-favourite and exciting new characters, mysterious locations and action from both the sequel and the original blockbuster The LEGO® Movie, The LEGO® Movie 2 Videogame is a wild adventure for kids to explore," said Arthur Parsons, Head of Design, TT Games Studios.
"Players must scour the stars for rare items, materials and tools to complete their collections and help their journey across the LEGO® universe, experiencing a wide array of amazing environments, wacky vehicles and incredible creatures along the way." "The LEGO® Movie 2 Videogame is a one-of-a-kind experience full of fantastic characters and open-world adventures with a strong emphasis on creative solutions to puzzles and building within the film's universe," said Sean William McEvoy, VP Digital Games & Apps, The LEGO Group. "LEGO® fans of all ages will have fun rebuilding their own world using tools to create roads, change the landscape and build structures to unlock more rewards and missions." 
We'll update you once more pre order information becomes available. 
---