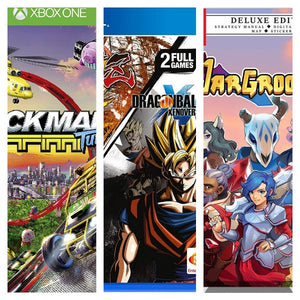 The Weekend Reload has Landed !!
Trackmania Turbo, £7.95
TrackMania Turbo is a racing video game developed by Nadeo and published by Ubisoft. Announced at E3 2015, the title is the first TrackMania game that is to be released on consoles since 2009's TrackMania: Build to Race on the Wii. The game features support for virtual reality.
Metacritic user score 7.5/10
DragonBall Fighter z + Xenoverse 2, £17.95
Dragon Ball FighterZ: The phenomenon, the spectacular hardcore fighting game known for its huge battle scenes and impressive graphics. Dragon Ball Xenoverse 2: Builds upon the highly popular Dragon Ball Xenoverse with enhanced graphics that will further immerse players into the largest and most detailed Dragon Ball world ever developed.
Fighter Z
Metacritic user score  8.0/10
Xenoverse 2 
Metacritic user score 7.4/10
Wargroove , £9.95
Take to the battlefield with Wargroove, a strategy game for up to 4 players! Choose your commander and wage turn-based war on battling factions. Design and share maps, cut-scenes and campaigns with easy-to-use Editors and in-depth customisation tools.
Metacritic user score  7.3/10
Follow us for the latest news, updates and deals!
---