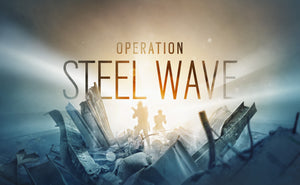 TOM CLANCY'S RAINBOW SIX SIEGE OPERATION STEEL WAVE NOW AVAILABLE
DISCOVER OPERATORS ACE AND MELUSI, A HOUSE MAP REWORK, AND A NEW DEFENDER GADGET
Today, Ubisoft announced that Operation Steel Wave, the second season of Tom Clancy's Rainbow Six® Siege Year 5, is now available for PlayStation®4 computer entertainment system, Xbox One and Windows PC, including UPLAY+, Ubisoft's subscription service for Windows PC*. Operation Steel Wave introduces Ace and Melusi, a new Attacker and Defender from Norway and South Africa, in addition to an entirely reworked House map and slew of gameplay changes.
Owners of the Year 5 Pass can play with the new Operators immediately, while the rest of the players will be able to unlock these Operators starting 23rd June using Renown or R6 Credits. Additional seasonal new content, including the House map rework, are available for free to all players. Year 5 Season 2 will also welcome its Battle Pass "Tour De Force," on 29th June.
In Operation Steel Wave, players will meet two new Operators:
 Norwegian Attacker Ace is equipped with S.E.L.M.A., a throwable and stickable device that will stick to any vertical surface and slowly destroy up to 3 panels, one after the other. The S.E.L.M.A. gadget can also be thrown at almost any defensive gadget and destroy it with its arms or water explosive.
 South African Defender Melusi is equipped with Banshee deployable electronic gadgets. It applies a slowing effect to any attackers that are in a direct line of sight. The Banshee can also be used as an intel gadget as it produces an identifiable sound when an attacker enters its range.
Follow us for the latest news, updates and deals!
---