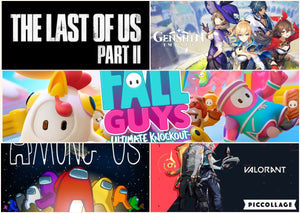 Top 5 Most Searched For Games on Google 2020
Google has released its annual list of global trending searches but It's worth noting that Google compiled these lists based on the biggest year-over-year searches, or spikes, for each specific term. Put simply, these aren't necessarily the most-searched terms of the year, just the most popular as compared to last year.
5. The Last Of Us Part 2
At number five is the slightly controversial Last Of Us Par 2, while many of the critic reviews gave Naughty Dogs ultra dark revenge movie video game high marks with comments like Naughty Dog has reached a new, seemingly unreachable level of narrative design where as the user reviews are less favourable with some saying that the game lacks almost everything that the made the first great.
4. Genshin Impact

Genshin Impact is a beautiful and expansive anime world that draws heavy inspirations from The Legend of Zelda: Breath of the Wild. Its a free-to-play action-adventure RPG where you play a vague and mysterious "traveler" from another world who arrives in the land of Teyvat before being attacked by a sorceress or God or...something. The game was once again highly rated by critics with a mixed user review score. its worth mentioning that this game is also on mobile devices which is slowly starting to become the new normal.
3. Valorant
Valorant is Riot Games' newest shooter. Unlike Call of Duty or Overwatch, Valorant is a tactical shooter, closer to Counter-Strike. This means that accuracy is key, teamwork is critical, and every bullet has the potential to be lethal. Austen Goslin of Polygon praised the beta of Valorant describing it as refined and "one of the most fun tactical shooters I've played".[1] On the first day of its beta launch, Valorant amassed the second most concurrent viewers for any game ever on Twitch, with 1.7 million viewers tuning in across dozens of streams. Only another game from Riot Games, League of Legends, has seen more viewers - when 1.73 million watched the 2019 World Championship final
2. Fall Guys: Ultimate Knockout

A collection of exciting minigames and a smattering of every colour under the rainbow makes Fall Guys a consistent delight, even if it can also be a frustrating one at times. It  was a breakout success, becoming the most downloaded PlayStation Plus game of all-time when it launched in August. It dominated our Summer, had massive viewership across Twitch, and even had companies competing to include in-game skins.
1.  Among Us
While Among Us released in 2018, it was not until mid-2020 that it saw a surge of popularity, initially driven by content creators online in South Korea and Brazil. Twitch streamer Sodapoppin first popularized the game on Twitch in July 2020, while  many other Twitch streamers and YouTubers followed suit, including prominent content creators xQc, Pokimane, Shroud, Ninja, and PewDiePie.
The Associated Press noted the game was the most downloaded app on the iOS App Store for both iPhones and iPads in October 2020 According to SuperData Research, the game had roughly 500 million players worldwide as of November 2020, with the free-to-play mobile version accounting for 97% of players and the buy-to-play PC version accounting for 3% of players, though it was the buy-to-play PC version that generated the majority of the game's gross revenue

Follow us for the latest news, updates and deals!
---