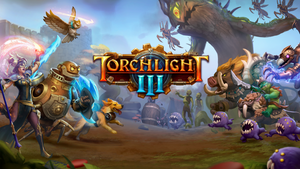 TORCHLIGHT III NOW AVAILABLE ON STEAM EARLY ACCESS FOR PC
Your Legend Awaits in this Epic Return of the Iconic Hack 'n' Slash ARPG Franchise
 Today, Perfect World Entertainment, Inc., a leading publisher of online games, and developer Echtra Games, Inc. have announced that Torchlight III, the highly anticipated successor to the beloved Torchlight franchise, has entered Steam Early Access on PC. For the Early Access price of £23.79, every ARPG fan can now experience this fast-paced and light-hearted dungeon crawler that lets adventurers jump back into the Torchlight universe. Those who embark on this adventure experience the first two epic acts in Torchlight III, and take on a myriad of quests and boss battles across randomly-generated areas filled with over 100,000 powerful pieces of loot to find, including magic, rare and legendary items. Early Access players can also expect to enjoy even more content as it rolls out over the coming months. 

Set in the same universe from Torchlight I & II, Torchlight III for Early Access features all of the franchise's signature gameplay mechanics, including satisfying hack and slash combat, epic loot drops and a unique pet system that captured the hearts of ARPG fans around the world. The return of the iconic franchise also introduces new features, including fully customizable forts that allow adventurers to leave their personal mark on the world, you can check out the trailer for the new fort system in the trailer below.
"Torchlight III entering Steam Early Access marks the exciting return of the Torchlight franchise that ARPG fans know and love," Player feedback is incredibly important to us, and we look forward to working with the community as we continue to expand Torchlight III to make it the best Torchlight title yet. With Torchlight III in Early Access, it's time for all adventurers, including longtime Torchlight fans and newcomers, to gather their wits and brave the frontier!" 
Max Schaefer, CEO of Echtra Games and co-founder of the Torchlight franchise
Torchlight III Early Access game features include:
Travel the Frontier: Players can explore the wilderness, party with friends, gather materials to craft loot, or show off their spoils in town! There's always something to do in the new frontier.
Build & Upgrade Your Fort: It's time to rebuild! Players will enjoy their very own account-based fort, where they can upgrade gear, and make renovations to show it off to their friends and the world. The game allows them to build monuments of power, pet stables, and more!
Choose a Relic: Relics are objects of great power that grant players a suite of active skills and passive skills. Players can craft them, level them up and store them in their fort. The relic is an important part of a character's strategy - choose wisely!
Collect Epic Gear: Whether it's armor, weapons, recipes, ember cores, or even new pets ... there's always more to find as adventurers battle through dungeons and take on dangerous foes. Every randomly-generated area can be replayed over and over again since each instance brings different items.
Pets are Back: Players can fight their way to fame and glory with loyal companions! Each of the many species comes in a myriad of colors and styles so adventurers shouldn't settle for the first one they find. They can also make these pets stronger by adding skills, equip them with gear to make them hardier, and together battle enemies as a team. 
Build Your Hero: With four classes to choose from, players can utilize class-specific mechanics to maximize damage and their odds of survival. Torchlight III lets them gather epic gear, select your Relic powers, and customize loadouts to create a unique combat style for their heroes.
Follow us for the latest news, updates and deals!
---