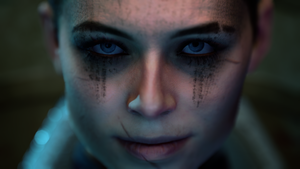 View the 'Chorus 101' trailer to get up to warp speed
View the 'Chorus

 

101' trailer to get up to warp speed
Deep Silver together with developer FISHLABS released a brand-new trailer for the dark space-shooter 
Chorus
. The 
'Chorus
 101' trailer introduces players to the story and gamep
lay mechanics of the title. 
In 
Chorus
 you take control of ace pilot Nara, a fugitive on a quest to destroy the dark cult that created her while facing her haunted past along the way. Along with her sentient starfighter, Forsaken, she explores ancient temples, engaging in exhilarating zero-g combat and fighting to unite the resistance forces against the cult (known as the Circle) and their leader, the Great Prophet.
The 101 trailer highlights the trials that Nara and Forsaken will need to endure if they hope to overthrow the Circle. Only by taking on dangerous quests across the galaxy will they have a chance.
A compelling single-player experience

Play as dual protagonists Nara and her sentient AI companion and starfighter, Forsaken, on a personal journey of redemption

Experience fast-paced, frenetic action that evolves the spirit of classic space shooters

Fight to unite resistance forces against the Circle and their ominous leader, the Great Prophet

Face down hordes of enemy starfighters, titanic battleships and unknown Void entities

Reclaim, upgrade, and wield devastating weapons and powers in zero-g dogfights

Explore a dark new sci-fi universe, teeming with mystery and conflict

Enjoy gorgeous next gen sci-fi visuals in 4K, from cosmic vistas to sprawling space stations

Engineered to take advantage of next-gen hardware, enhancements include:

4K resolution at 60fps

Advanced enemy ship destruction

Higher quality volumetric

Richer environmental effects
Purchase Chorus on PS5, PS4, and Xbox Series X by following this link.
---