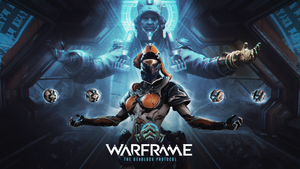 WARFRAME'S REMASTERED UPDATE THE DEADLOCK PROTOCOL IS AVAILABLE NOW ON PS4 XBOX ONE AND NINTENDO SWITCH
Warframe's Earliest Environment Receives Wholesale Re-envision With Original Questline, Revitalized Gameplay, State-of-the-Art Visual Upgrades, a New Warframe, and More
  Canadian developer and publisher Digital Extremes has reimagined Warframe®'s earliest levels in The Deadlock Protocol, available now on PlayStation®4, Xbox One, and Nintendo™ Switch. Like Chains of Harrow and The Jovian Concord before it, The Deadlock Protocol delivers iconic new visuals, sound and gameplay elements -- from parkour-friendly vertical remodeling to revved up boss fights to backstories behind the Corpus's rise to power -- while also adding 2020's newest Warframe, Protea.
  Led by the powerful Ability to stop enemies in their tracks by rewinding time (using an Ability called the Temporal Anchor), Protea's array of offensive and defensive grenades, drones, and turrets brings a battle tactician's edge to the fight. Players can investigate her origin story as the former Corpus head bodyguard in her own unique Quest, and uncover a quiver of technologically advanced weapons from the new Corpus Armor Set and Primary Rifle to the Gunblade Melee, to new Kitguns and more.
  The Deadlock Protocol weaves larger-scale story implications into the modern Warframe narrative. Players must investigate the Corpus Faction's desperate ploy to break their board's political in-fighting. Through combat and discovery, Tenno will learn a small Corpus sub-faction has begun a devious plan to resurrect the faction's founder, a revival posing an alarming new threat to the Origin System's balance. Determined to strengthen their armada and bolster a growing space fleet against the Sentients and the Tenno, the Corpus' plans for unbridled power must be put to an end.
  Nearly every aspect of the Corpus' early environment has been upgraded, starting with gameplay. Fresh challenges begin with the renewed Jackal boss, a fight sequence now extended across multiple levels that dares players to rethink tactics. The new Granum Crowns bring a spendable currency that open up a wild variety of gameplay options, including being transported to a surprising new Corpus netherrealm. And now, nearly every wall, corridor, and room supports parkour mobility. 
Follow us for the latest news, updates and deals!
---