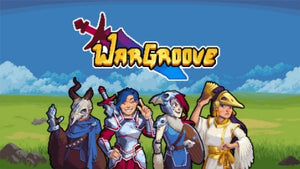 Wargroove Double Trouble DLC launches free on PS4 tomorrow… bringing cross-play to all platforms!
Wargroove's massive free DLC comes to PlayStation 4, adding a 15+ hour Co-Op enabled Story Campaign & plenty more!
Developer and Publisher Chucklefish today announced their much-anticipated, free DLC Wargroove: Double Trouble, will be hitting the digital PlayStation Stores tomorrow, on Tuesday 4th August at 12.00 midday GMT. 
Wargroove: Double Trouble features a completely new outlaw-themed, co-op enabled campaign, showcasing new Thief and Riflemen unit gameplay, as well as ruffian Commanders; the mighty Wulfar, troublemaker twins Errol and Orla, and the maleficent Vesper.
An exciting addition to this release, is also the very much anticipated inclusion of cross-play support between all platforms, including PS4, Nintendo Switch, Xbox One and PC. This means that no matter what platform Wargroove players choose to battle on, they can enjoy competitive and cooperative multiplayer games, as well as share community-made maps online with friends. Wargroove: Double Trouble also features a new public and private lobby system for PS4 players, making it quicker and easier to get stuck into an online match, no matter your platform of choice!
Get Wargroove for Nintendo switch at just  £14.95 !!
Brand new Co-Op Story Campaign (can be played couch co-op, online co-op or even solo)
3 New Roguish Commanders, each with their own unique 'groove' powers
2 New Units - Thieves & Riflemen!
New Arcade missions
Competitive online Quick Play 
Public and Private Multiplayer Lobbies 
New Volcano map theme and more updates to the custom Editor tools
Outlaw music tracks, composed by Phonetic Hero
And much more! 

Follow us for the latest news, updates and deals!
---