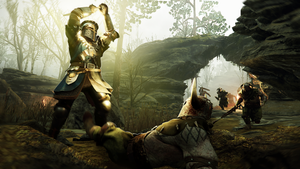 WARHAMMER VERMINTIDE 2 SEASON 3 OUT TODAY
The Skaven will not appreciate the Grail Knight
Independent developer Fatshark today announced that Warhammer: Vermintide 2 Season 3 is available on PC today.
Season 3 of Warhammer: Vermintide 2 will bring the first new career to the game since its release. Also, weather effects can hit the heroes letting it rain and making you confused in the fog, for example. More still, missions will be played around the clock and the night missions will instill a whole new level of fear in the players. To top it off - hello pun! - we are introducing several premium hats for the fashionistas. 

Let us introduce the Bretonnian Grail Knight
Marcus Kruber will get a fourth career, and that is as a Bretonnian Grail Knight. Besides his amazing character-exclusive outfit and golden helmet, he comes with a new sword and shield. As a noble knight, he looks down on anything but face-to-face combat, and no one will ever see the Grail Knight using a ranged weapon.    

Follow us for the latest news, updates and deals!
---