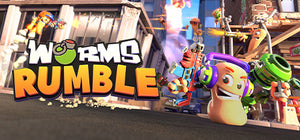 WORMS PREPARING TO CELEBRATE 25TH ANNIVERSARY MILESTONE
Fan-made update to Worms: Armageddon, a series of digital badges, and Worms Rumble Steam beta kick off celebrations with a Holy Hand-Grenade of a bang.Three Modding Community Maps Officially Added to Full Game Launch with More User-Generated Content Plans On The Way
Team17 is kicking off the countdown to the 25th anniversary of the award-winning and beloved Worms series on 17th November. In addition to a collection of digital badges tracking the evolution of the worm design, a fan-driven update for Worms: Armageddon is now available with a raft of new features and updates, while the first beta is taking place for the recently announced Worms Rumble, which is scheduled for release on PlayStation consoles and PC later this year. Worms has been an award-winning success story since its debut in 1995, with instalments in the franchise launching on a range of platforms from the original PlayStation® to the most recent release, Worms W.M.D. on the current-generation of consoles and PC.
"I'm thankful to have been able to play some part in the Worms story over the past twenty years. Worms: Armageddon was among the first games I worked on; it's incredible that members of the community are still delivering updates for it, and is a sure sign of its quality and the love that fans have for it. We're currently writing the next chapter of the Worms story with Worms Rumble, and its beta test is currently underway. Tens of thousands of players have signed up to experience a fresh take on the series, and we're receiving invaluable feedback that will help us deliver a great game."
by Kevin Carthew, Creative Director, Team17
"Worms has been a part of my life, and the part of the lives of millions of gamers, for a quarter of a century, and it continues to go from strength to strength. The series forms the backbone of my career at Team17, and the evolution of the Worms design throughout the last 25 years really stands out – everybody has their Worm."
by Nick Gomersall, Art Director, Team17 
First released in 1999, Armageddon is beloved and recognised by the community as the quintessential instalment in the series. This week sees the launch of v3.8 of Worms: Armageddon, completed by fans, with dozens of new features and updates, including the ability to affect the game's physics, the introduction of new CPU-controlled teams to online matches, and 'Mapshot' that allows players to start a new game on land decimated during a previous battle, as well as improved compatibility with Windows 10 and Linux platforms.
Today's announcement comes just a week after Team17 unveiled the next instalment in the series, Worms Rumble, which is scheduled for release on PlayStation® 5, PlayStation® 4, and PC later this year. A Steam closed beta of Worms Rumble is currently taking place and is running until 8am BST on Monday, 20th July.
Follow us for the latest news, updates and deals!
---